Welcome to Roofings Finder, my name Is Randy Koznoski  and I personally have been in the field of work for over 5 years. I worked with my father which has been doing roofing for over thirty five years now! I came to realize that so many roofs have been incorrectly installed and have caused many leaks and much concerns for homeowners and industrial buildings. Over time if a roof is improperly installed or has a lot of aging it creates openings for water to seep under the shingles and under the felt  paper and causes moisture on the plywood. With the plywood being wet or moist it makes the wood retain moisture and causes rotting. With rotted plywood water then seeps in further and eventually causes leaks and internal damage. A damaged roof can cause hundreds and thousands worth in damage if not taken care of, the roof is one of the most if not the most important piece of a building or house. It is also dangerous to step around the damaged areas and can be a serious issue if in a storm or high winds. here are some roofing facts from Bi-state roofing system.
FACT: Today's roof systems, especially those which use the tough new single-ply synthetic membranes, offer superb quality. But they are also technically challenging to design and specify, to install, and to maintain – either as new construction or as replacement systems. Studies show that most commercial and industrial roofs today fall short in one or more of these three areas
FACT: Research shows that only about 15 percent of commercial/industrial roofs today last for ten years without expensive performance problems.
FACT: On the average, only about five percent of roof system problems are covered by the manufacturer's warranty, assuming that it is still in effect. Some estimates are that nine out of ten manufacturer's warranties on roof systems are voided without the owner's knowledge before the new roof is eighteen months old should they not comply with warranty requirements and recommendations.
FACT: In ninety-eight percent of all roof-system integrity failures, the problem is not due to the roof system itself but to  mismatching of roof system type to building type at the specifications stage;  improper installation of the roof system, the insulation system, or the adhesive/fastener/ballast system;  failures in flashing, rooftop drainage, skylight, or other adjunct systems;  excessive rooftop traffic or improper installation or maintenance procedures for rooftop equipment units; and/or  improper roof system maintenance procedures or materials.
I will take the time to find all, or the best affordable roofers in the Tampa bay area. check out these sites they will give you a better understanding and can show you that this will be the best place to find the best local roofers in the area so you can get yours professionally installed and have your house looking great again.
Also feel free to follow us on our Facebook page. I want to make this as easy and fast as possible so you can get your roof looking great and installed well so it can last you twenty five plus years and you can be a safe and happy homeowner again.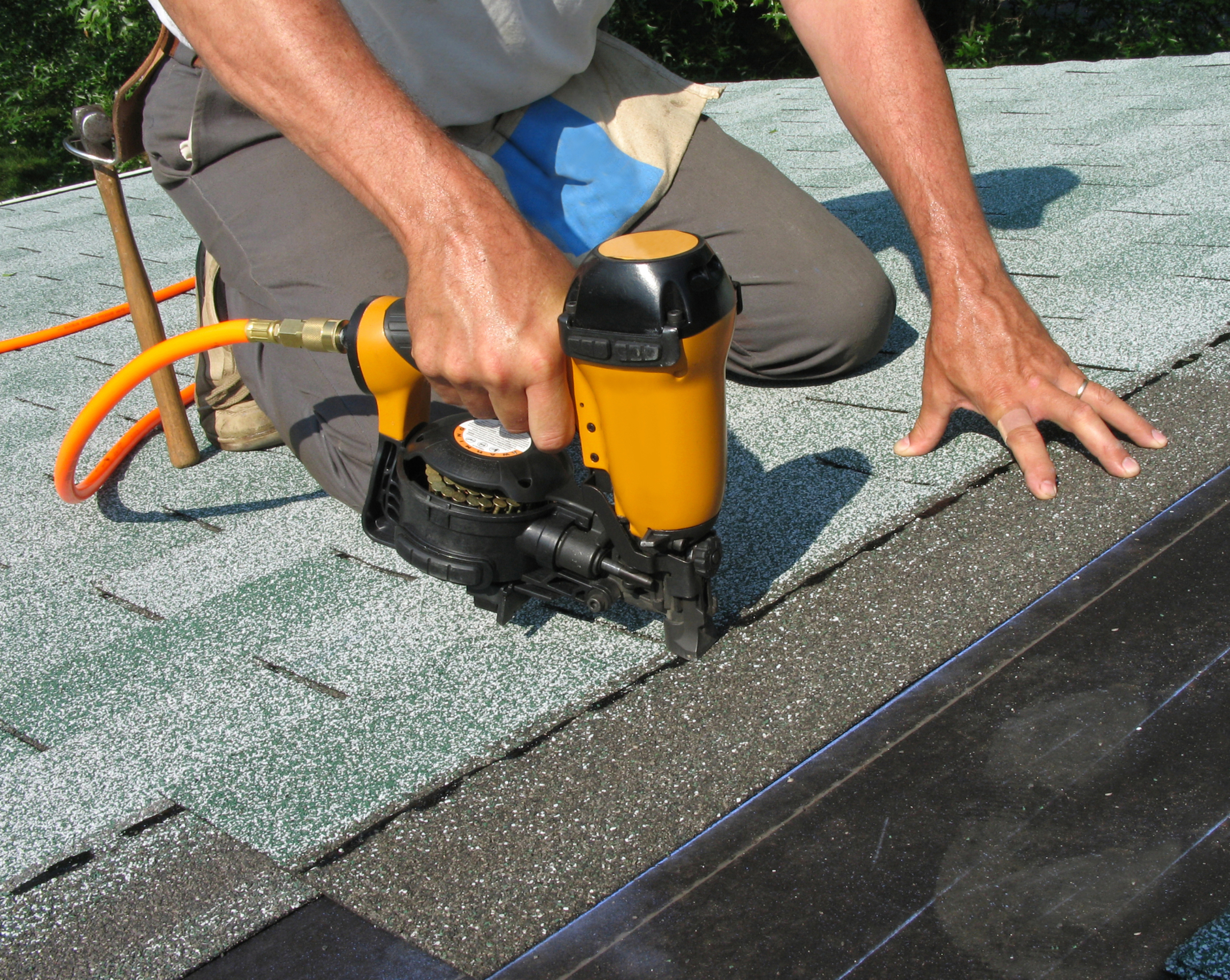 Are you in the Tampa bay area ?  I have summoned up the best roofing companies in the area to make it easy for you to choose the best and affordable option.  Not much of a building without A roof is it! what is a roofer and what do they do? Roofers are the people who install and repair roofs for buildings or houses and are of course one the most important part of a building and construction team. A roofer is a construction worker who specializes in roof construction. Roofers concentrate on the application of materials that waterproof and/or weatherproof buildings, designed material—as a substrate for the roofing materials to be installed on, the rafters , beams, and trusses are the frame or skeleton for the roof to be built upon. Roofers must be able to work, have good motor skills and possess general carpentry skills. A roofer should always remove the old surface and replace all damaged materials in order to prevent any concerns or leaks.
Roof shingles are a roof covering consisting of individual overlapping elements. These elements are typically flat, rectangular shapes laid in courses from the bottom edge of the roof up, with each successive course overlapping the joints below. Shingles are made of various materials such as wood, slate , fiberglass, cement , metal , plastic , and composite material  such as asphalt shingles. Ceramic roof tiles, which still dominate in Europe and some parts of Asia, are still usually called tiles. Roof shingles are a very common roofing material in the United States. with some knowledge, I hope to help you find a quicker more affordable way to get the right roofing contractor for you in the Tampa bay area!
here is a short video by the GAF explaining the process of installing a basic roof on a house. The GAF is one of the best companies supplying high quality materials for your roof.
The GAF supplies all kind of materials needed for the installment and offers a variety of different options to choose from. They also offers different kinds of colors to choose from such as these below.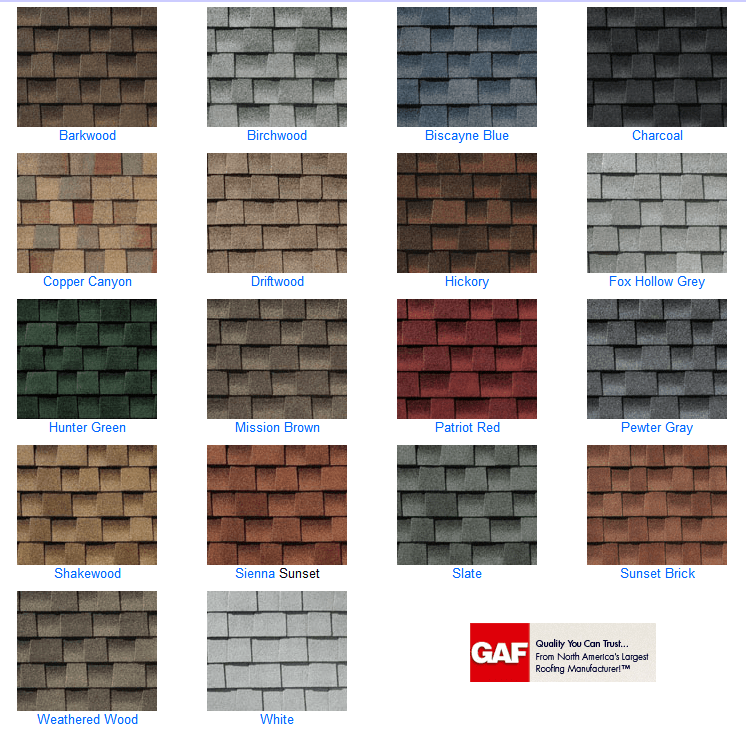 GAF also offers different kinds of shingles to choose from they differ in price range. Every homeowner has to choose from the kind of shingles they want installed. The first kind of shingles below in the picture are called Timberline. Timberline is
North America's
#1-selling shingles there is many different colors to choose from and different varieties of timberline to choose from. the shingles in the next picture are called Designer, they offer a more Beautiful, stylish, and exceptionally durable luxury look for your roof. The next kind is impact resistant and cool reflective  it is The solution for homeowners looking for specialty performance. The next kind is the most basic and cheapest kind of shingle ,if your looking to replace your roof on a budget this is the one for you. It is called three-tab . Each have their own different appeal, but will all make your house look new again.
My goal is to help my Tampa bay clients out as much as possible and to help you make the right and affordable decision on choosing the right roofing contractors in the area that will get the job done right! Feel free to contact me at (813)-919-8484 or my email roofingsfinder@gmail.com and ill make sure your house gets done by the best in the bay area.